Reviewed by Anne-Marie Reynolds for Readers' Favorite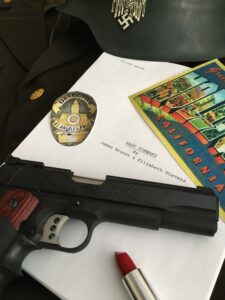 Fast Forward by James Bruner and Elizabeth Stevens is an action-packed story. Sergeant McCain was a detective with the LAPD but, during WWII, he is captured by Nazis. Escaping, he turns commando and, all of a sudden, he finds himself back in LA. The only thing is, it's now 1985 and he hasn't aged one bit. They still want him though, so he gets back with his old partner, now in his 70's to battle against those who want him dead – and the bodies begin to pile up.
His ex-fiancee reappears in his life and all McCain and his partner have to do is keep themselves alive, at least until they can work out just what is going on. It really is a case of Captain America meeting Life on Mars!
Fast Forward is written by the screenwriting team of James Bruner and Elizabeth Stevens, known for The Delta Force and Missing in Action with Chuck Norris and other films. This book reminded me very much of the film Forever Young with Mel Gibson, lots of parallels, although different stories.
It really was action-packed, from page one all the way to the end. The story starts on a high note and doesn't lose it, taking the reader on a winding and twisting journey back and forth from past to present. This isn't a simple story that you can read with only half your mind on it – it will take your full attention.
This was one story I lost myself in, finding myself living it as it happened. The characters are developed in such a way that I felt as if I knew them, and readers will find themselves able to identify with at least one of the main characters.
Great story, very strong, and well worth a read for those who like something full of action and just a little bit out of the ordinary.